Baby > Keepsakes & Baby Announcements > Baby Books & Albums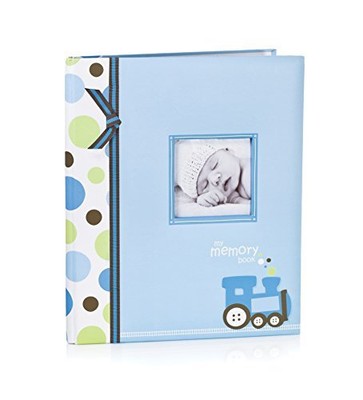 Similar items you may be interested in
Description
Lil Peach Train Baby Memory Book Feature o Includes a "clean touch" inkpad to make your babys footprint o Photo corners to mount pictures o Train Babybook Description The Lil Peach Train Baby Book is the perfect way to record your precious babys milestones.

Record your babys milestones up the their 5th year with this guided journal and album in one.

Fun and vibrant, our baby book is a great way to create a keepsake for generations to enjoy.

The cover includes a ribbon accent and an opening for your babys 3" x 3" photo.

This baby book is perfect for any new parent looking to document and share those wonderful early memories.

Cherish every laugh, crawl, walk, and more.

This memory book makes an excellent baby shower gift or as a gift for new parents, grandparents, aunts, uncles or other loved ones.

Also makes a great baby registry item! At Lil Peach we aim to create genuine, quality products to celebrate your special moments in life.

We are a family of designers, marketers, and trendsetters bringing products to life that will bring a smile to your face.

From concept and design to production and customer service, the Lil Peach team works together seamlessly every step of the way.

Whether your baby is celebrating their first year of life, you are announcing your pregnancy, or your pup is celebrating his first holiday season, Lil Peach is here to share your moments in style.