Baby > Keepsakes & Baby Announcements > Baby Books & Albums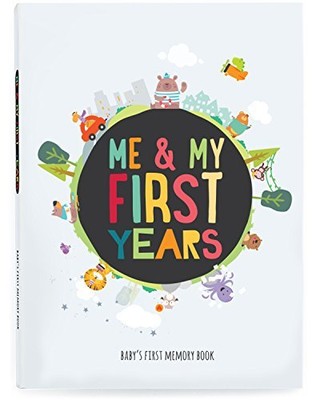 Similar items you may be interested in
Description
Me & My First Years Baby Memory Book - Animals.

Personalised album for photos, pictures & development.

Perfect Baby Shower Gift. (White) Feature o 48 page personalised album to journal and scrapbook babys precious moments, milestones and photos up to 5 years. o Includes FREE safe ink pad for babys hand and foot print.

Babys skin never touches the ink o Also includes a FREE family tree, growth chart and keepsake envelope to keep babys important memories safe. o Responsibly printed following international standards, eco-friendly practices and recycled materials.

Standard A4 Size (210 mm x 285 mm). &bull Standard picture size (10cm x 15 cm). o 100% money back guarantee.

Description From bump to birthday and everything in between, our memory books are an easy to fill in scrapbook and journal for capturing the first years in a new babys life.

Each book contains 48 pages to record babys precious milestones and stories from their first smile, to their first steps, to their first bath and many more.

You can also plot their family tree, chart their growth and celebrate those major milestones in their life including first holidays, first day at school and their birthdays up to 5 years old.

Also included is a safe ink pad for babys hand and foot print, along with a storage pocket for preserving locks of hair and other mementos.

The books are spirally bound meaning it can be filled full of photos and still sit flat.

The Me and My First Years Memory Books allow parents to create a personalised album for babys photos, pictures and development.

Theyre the perfect baby shower gift to forever capture the magic of babys first years.